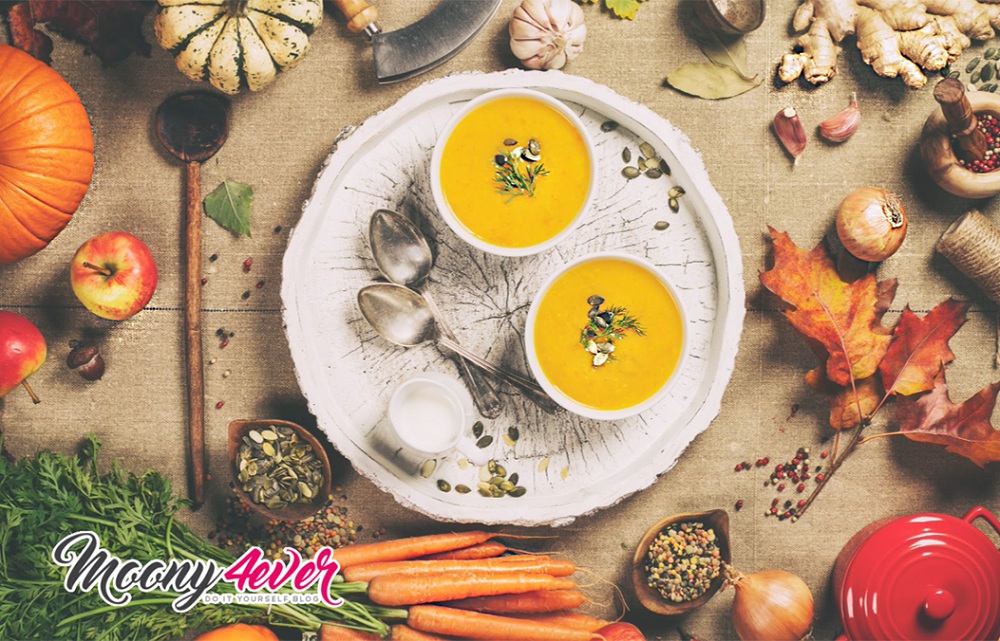 Pumpkin soup with ginger, coriander and coconut milk is a super soft and creamy soup, not a typical Surinam Dish as I share most of my recipe's on my Food Blog https://moony4ever.blog/. I visited last year this event about health food and they served this Pumpkin Soup with ginger, gosh I felt in LOVE. Because as everybody knows me, I am crazy for dishes with pumpkin, coconut and coriander. I wrote many blog post about pumpkin (in Dutch named Pompoen), because there are so many health benefits of this vegetable. 
INGREDIENTS:
1 Pumpkin
3 Carrots
2 Tbsp Coconut Oil
1 Piece Of Ginger Peeled And Cut Into Small Pieces
1 Clove Of Garlic
1 Large Onion
1 Red Pointed Pepper
1 Large Tablespoon Of Curry Powder
½ Tbsp Turmeric
½ Tbsp Coriander Powder
1 Tbsp Coriander Leaves, Dried
1 L Of Stock
1 Can Of Coconut Milk
1 Squeezed Lime Or Lemon
Pinch Of Sea Salt
Freshly Ground Black Pepper
NEEDED:
Blender
Stockpot
PREPARATION:
Cut all vegetables into pieces, not too small because your soup will mash anyway. Fry the pieces of pumpkin, carrot, ginger, bell pepper, garlic and onion in the coconut oil in a heavy-bottomed stockpot. Spoon in the curry and let it fry gently for 5 minutes. Add coriander powder and the stock. Bring the soup to a boil and let it simmer for 15-20 minutes until the pumpkin and carrot have softened completely.
Mash the soup with a hand blender until nice and smooth. Now add the coconut milk. For a slightly thicker soup, only do the thick creamy part of the coconut milk, otherwise you can add the whole can. Add the lime juice, turmeric and coriander leaves and stir well again, possibly with the hand blender. Add some salt and pepper to your own taste.
TIP
Fry ½ red pepper in pieces for a slightly spicier taste.
I share many pumpkin recipe's on my food blog, visit www.Moony4ever.blog