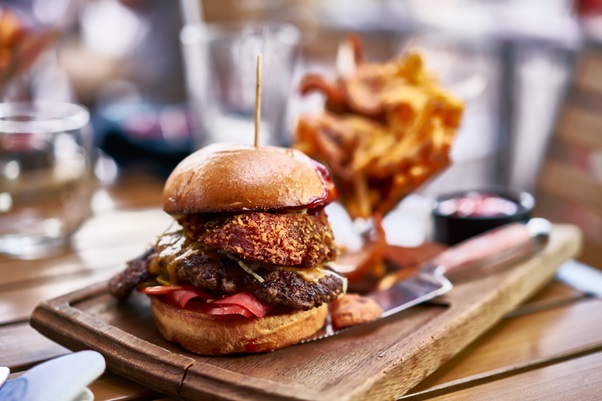 The humble hamburger is one of the world's most beloved and versatile foods. Americans eat nearly fifty billion hamburgers a year, and the world consumes billions. You can find burger restaurants almost anywhere you care to look.
Hamburgers populate the menus of dive bars, family-friendly diners, and Michelin star restaurants alike. They can cost just a few dollars or command exorbitant prices.
With so many options, narrowing down a list of the world's best hamburgers is all but impossible. But that's just what we've attempted to do, focusing first on the burger's homeland of America and then on the rest of the world.
Read on to discover the world's best places to satisfy your burger craving.
Best Burger Restaurants in America
The origin of the hamburger is shrouded in mystery. Opinions are divided as to whether the hamburger was really invented in Hamburg, or if the name was coined by German immigrants to the United States.
One thing is for certain: no matter where it was invented, America now claims the hamburger as its own. Burgers as we know them – beef patties, buns, and toppings – were invented and perfected in America, then spread around the world with the growth of the fast-food industry.
Here are just a few of the best hamburgers in America, from gourmet restaurants to roadside dives.
Best Burgers in America: East Coast and the South
New York is one of many cities that claim to have invented the burger, and its dining scene excels at gourmet takes on the classic dish. The South may be better known as the birthplace of Kentucky Fried Chicken, but it has a formidable burger scene as well.
Emily, New York City, NY
Emily is a misfit in every way. First off, it doesn't even specialize in burgers – it's a pizza restaurant. And not even NYC-style slices, but the regional Detroit-style crispy pizza.
Nevertheless, Emily's burger is often called the best in New York City. It's an indulgent flavor bomb, with two patties, a pretzel bun, a heap of caramelized onions, and a secret "Emmy Sauce." It enjoys a hardcore cult following due to the burger's subtle sweetness and rich flavor.
Craigy on Main, Cambridge, MA
All the brainpower concentrated at Cambridge's Ivy League universities needs fuel, which is why you'll find people lining up for the Craigy on Main burger.
Craigy on Main only makes 18 burgers per day, and they make everything from the bun to the ketchup in-house. Eater Boston calls it "an icon" and "one of the best burgers you'll eat."
The General Muir, Atlanta, GA
This NYC-style Jewish deli in Atlanta normally offers pastrami sandwiches, latkes, and Reubens to a hungry clientele. But at night, their over-the-top take on a burger comes out.
The burger is topped with American cheese, hot pastrami, and caramelized onions. It's an odd but delicious take on a bacon cheeseburger.
Best Burgers in America: Midwest and Southwest
No matter where the hamburger was first invented, most historians agree that it came to prominence at the 1904 St. Louis World's Fair (also the birthplace of the ice cream cone and cotton candy). So, the Midwest has a strong claim to the best burgers in America. Meanwhile, the Southwest has brought flavor innovation to the hamburger through its ubiquitous green chiles and Mexican influences.
Au Cheval, Chicago
Au Cheval is a meat lover's paradise. Their burger, called the best in America by many, elevates the simple diner burger to heart-stopping levels of excess and flavor. The ingredients are simple but high-quality, and a Dijon mustard and lemon-based sauce helps cut through the meaty flavor.
The burger is so popular that a spinoff restaurant, Small Cheval, serves the burger only. You can find a second location in New York City, but purists swear by the original as the best of the many burger restaurants in Chicago.
Matt's Bar, Minneapolis
Matt's Bar is one of two venues that claim to have invented the "Juicy Lucy," a Minneapolis specialty. The patty is stuffed in the middle with cheese, which dissipates into the meat and leads to a rich blend of cheese and patty flavors.
The 5-8 Club a few miles away is the other supposed inventor of the Juicy Lucy, and deserves a visit as well.
Old Homestead Steakhouse, Las Vegas
Sin City is a monument to excess, and the best burger restaurants in Las Vegas embrace this philosophy. The Old Homestead Burger, located at the steakhouse in Caesar's Palace, is a 10-ounce dry-aged patty with aged cheddar. It comes topped with foie gras butter and caramelized onions, and duck fat fries with smoky bourbon ketchup on the side.
Best Burgers in America: West Coast
Southern California is the birthplace of the fast-food drive-in, and hamburgers are as much a part of the California dream as the Hollywood sign. Oregon and Washington are no slouches on the grill either.
In-N-Out Burger
Some burger purists might scoff at including this regional fast-food chain on the list. But for price, quality, and ubiquity, you can't beat In-N-Out. Its burger is a masterpiece of simplicity – fresh, thin, and flavorful. And it comes cheaper than a Big Mac.
In-N-Out may be a fast-food chain, but it's probably the most beloved and fiercely defended fast-food chain in the world.
Nopa, San Francisco
For a taste of hyper-local, fresh California cuisine, head to Nopa in San Francisco. Nopa grills its burger over a special almond-wood fire that makes it especially smoky.
Nopa also serves the burger with a salad fresh from that morning's farmers market. Unlike some of the heart-attack-inducing foods on this list, it's a burger you can feel reasonably good about eating.
8oz Burger & Co, Seattle
Burgers don't always have to be made of beef, and turkey burger restaurants around the world are proving it. Many claim the turkey burger at this Seattle restaurant is even better than the normal one.
You can also go for more exotic burger options such as buffalo and venison.
American Hamburger Innovations
Before moving on to the rest of the world, we have to give an honorable mention to the many strange and amazing ways America has innovated with the burger.
America is home to entirely vegan burger restaurants, such as New York's Superiority Burger. You can order burger catering, and even have burgers delivered to you en masse, such as in the burger box from this restaurant.
If you can think of a burger, there's a place you can order it somewhere in America.
Best Burger Restaurants Around the World
America may be the homeland of hamburgers, but restaurants around the globe are trying to beat the USA at its own game. Here are some of the best burgers you can find around the globe.
Burger & Beyond, London
Burger & Beyond takes dry-aged flavor to new levels. It grew from a small market stall in Camden to a full-fledged restaurant on the strength of its burger alone.
The burgers are topped with crispy pancetta instead of bacon and are available with decadent toppings such as bone marrow-infused mayo. Burger-dedicated website BurgerDudes calls it "Completely unmissable!"
MOS Burger, Tokyo
MOS Burger has spread across Asia by adapting the hamburger to the Japanese palate. At MOS Burger, you'll find teriyaki chicken burgers or marinated beef burgers served on a sticky rice bun. Burgers thrive on adaptation, and the MOS burger is a tribute to the endlessly mutable nature of the food.
Burger Joint, Buenos Aires
Argentina is famous for its beef, so it was only a matter of time before they brought their beef skills to burgers. Burger Joint offers burgers cooked four ways: La Clasica (classic), La Mexican (spicy), La Bleu (cheesy), and La Jamaican (tangy).
Located in the heart of the trendy Palermo neighborhood, Burger Joint is an Argentinian twist on the classic foodstuff.
Le Ruisseau, Paris
Le Ruisseau brings French technique to the classic American fast-food burger at a very affordable price. They make their burgers fresh and bake fresh buns twice a day.
Le Ruisseau also has an excellent vegetarian burger, and a secret sauce served with their fries. Each burger is served with a quality French cheese – no Kraft American singles to be found here.
More About Burgers and Other Foods
No list could ever encompass the thousands of delicious burger restaurants around the world, but hopefully this list is a start. No matter what part of the world you find yourself in, it's always easy to find a burger.
Check out the rest of our food section for more recipes and recommendations, from breakfast to dessert.