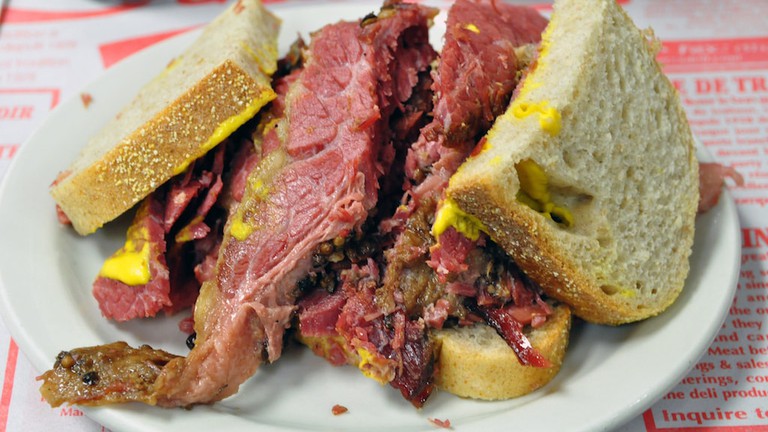 Smoked meat, whether marbled or with a bone, it is one of the most popular cuisines that delights the taste buds with hints of a smoky woody aroma amalgamated with subdued flavors of different herbs and spices. However, the real game begins at cooking it in a way it's described. It tastes best only when it's cooked properly. Besides, the delight also depends upon the experience at the restaurant – how cordial the staff is and whether or not the restaurant was easy to locate.
Only a few restaurants in Montreal, like the JarryViandeFumée deli has all the features – ambience, hospitality, and finest smoked meat taste – that makes a deli worth your money and visit. An elaboration of these features are listed below.
High Quality Meat
The meat used at Jarry Smoked Meat – whether it's pork, chicken, or beef – is of high quality. High quality means the meat has all the following features.
It is a neat cut – neither too thick, nor thin.
It is stored in temperature controlled refrigerators so that it remains fresh.
It is handled with proper instruments to maintain hygiene.
The 7-Day Run
The meat cut is cooked in a gravy of spices and herbs. It is then left in the same mixture for a week. With a week's time the meat absorbs all the flavors and gets juicy. This elaborate cooking process takes place only in a few selective deli restaurants like Jarry Smoked Meat. No wonder, their smoked meat is a delightful treat.
Smoke and Steam
Once the meat is properly marinated for a week, it has to be smoked hot. And the scent and aroma of that smoke seeps within the meat. Therefore, utmost care is to be taken about the type of wood that's to be used to smoke the meat. Mostly it is high quality oak, cypress, pine, and spruce that are preferred for smoking the meat.
Once properly smoked, the meat is mildly steamed so that it stays juicy.
Staff and Location
Hospitality matters as much, if not more, as the quality of smoked meat. A Montreal classic deli will always hire trained staff to make customers feel cared for. Also, the restaurants should have proper road connectivity for convenience.
Variety
One trademark of a good deli restaurant is that it is multi-cuisine. One of Montreal's finest, Jarry Smoked Meat, has an astounding variety that includes the following.
Caesar salad
Greek salad
Tuna salad
Italian Poutine
Jarry smoked meat Poutine
Chicken poutine
Smoked meat sandwich
Stuffed chicken sandwich
Steaks
Wraps
Shrimps
Cheese sticks
Hamburgers
Black olives
Feta cheese
Coffee
Sweetened liquor
Sauces like pepperoni sauce