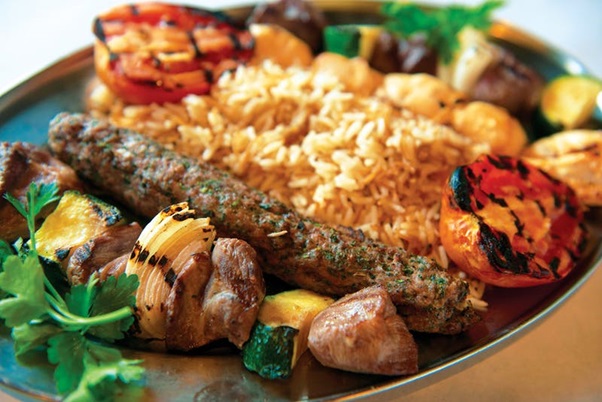 Lebanese food, some classic Lebanese food you'll love :
Here we've curated a selection of some classic Lebanese recipes for your enjoyment. There is a little taste of something delicious for everyone.
Lebanese food :
Lebanese Hushwee (Paleo):
Spiced with cinnamon, nutmeg and cloves, hushwee is an ideal dish to throw together come fall (via The Lemon Bowl)
Lebanese Lentil Spinach soup:
Cumin and lemon provide a dash of bright flavor to this lentil soup.(via Coffee and Quinoa)
Healthy Vegan Felafel:
Reach for this tasty recipe the next time you're in need of healthy meal in less than 30 minutes.  In other words, you'll be eating this every night and you won't be sad about that all.(via Gourmandelle)
Marinated Yogurt Cheese Balls (Labneh):
You only need one ingredient (Greek yogurt) to make labneh at home, but a simple marinade tailored to your own tastes elevates this DIY cheese to a whole another level of deliciousness. (Via Home Cooking in Montana)
Classic Lebanese food :
Lebanese Sugared Donuts :
We'll take a baker's dozen of these fluffy, beignet-esque donuts. (Via rose water and orange blossoms).
Sfeeha :
Savory meat pies are always fun to eat, but in Lebanon, they make them without a top. It's like an open-faced meat tart of sorts. without a covering to impede it, that means it's bursting with meaty goodness.
Arak :
Something that goes great with all of these Lebanese dishes is arak. It's an alcoholic drink that is made from the anise seed and it's very strong with a whopping 63% alcohol content.
Muhallabiya :
Milk, corn flour, sugar and chopped pistachios are all you need to make this classic pudding. (Via red panda bakes)
Kunafeh :
This Lebanese pastry is a must try. It's made from cheese and topped with sugar syrup and pistachios.  Like donuts in the states, this is ideal as a breakfast but can also make for dessert any time. Every place makes it different so try it everywhere you go to find your favorite.
Lebanese food, a recipe of Lebanese appetizer:
This meze that is called Eggplant Motabal is one of the popular and fast Lebanese and Arabian dishes that is very simple and quick to make. Motabal is perfect for parties and it is a light and useful meal for dinner. To make this delicious snack, we need these ingredients that are easily available in almost every home:
Ingredients:
3 grilled eggplants
4 tablespoons sesame tahini
2 tablespoons olive oil
2 tablespoons yogurt
2 cube garlic
Walnut
Salt and pepper
Procedure:
This dish can be made easy and simple, sometimes you can get help from your children to make it more enjoyable and courage them to eat this nutritious food.
Crush the roasted eggplants with masher.
Grate or crush the garlic and add to ingredients.
Add yogurt.
Sprinkle sesame tahini over the ingredients.
Add olive oil.
Add walnut.
Add enough salt and pepper to the ingredients.
Stir the ingredients well to mix.
Now your Lebanese Motabal is ready and you can serve it.
Lebanese food, Thick-style Lebanese Garlic Sauce :
Ingredients:
1 head garlic, minced
1 tablespoon sea salt
1/2 cup fresh lemon juice
1 cup vegetable oil
1 cup olive oil (not extra virgin )
Direction:
Place the garlic, salt, lemon juice, vegetables oil, and olive oil in a quart-sized jar.
Submerge an immersion blender in the mixture to the bottom of the jar.
Mix with the blender resting on the bottom of the jar until the ingredients thicken, 1 to 2 minutes.
Angle the mixer to pull ingredients from the sides of the jar and lift it toward the top to better combine.
Continue blending until the mixture reaches a texture similar to mayonnaise.
Lebanese food :
If airfare is your concern, you can find Lebanese food somewhere near you. Try out your local Lebanese restaurant to taste what you've been missing with these flavorful and healthful dishes.