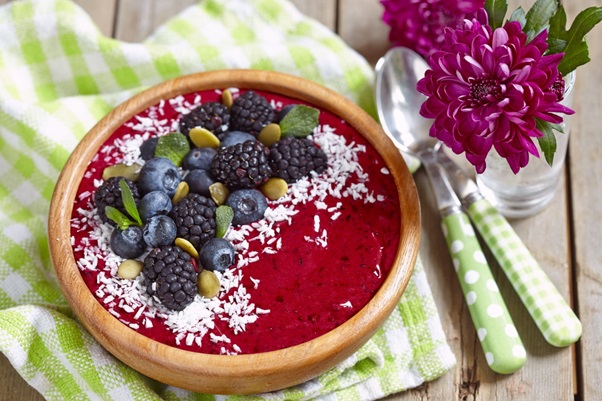 Do you love acai? This little superfood berry has been hugely popular over the past few years. You can use acai powder or acai puree and it blends well into smoothies and batters with ease.
Whether you love the taste or you want to get some bonus antioxidants in your diet, why not add some acai?
Maybe you don't know where to start. That's okay. New ingredients are overwhelming, and with something that can get expensive, you want to do it right.
A note: when using acai powder in recipes that call for puree or frozen acai, blend the powder with ice to hydrate it and give it a smooth texture. This makes the powder a good and more affordable replacement to the puree.
We're here to help. We've compiled a few of our favorite acai recipes from food blogs around the web that you're going to love. Keep reading for a few healthy acai recipes and start putting together your grocery list.
Irish Porridge With Acai
For most recipes including acai, you're going to be looking at something cold, or at least room temperature. If you're like us, though, you want something warm and toasty in the morning, especially when it's still cold out.
Irish porridge is the answer. It takes longer than standard oatmeal because the oats are steel-cut and firm. When you cook it down, the oats get creamy and just chewy enough to be satisfying.
Aside from being a great, filling, and fibrous morning meal, you get a sweet touch of honey, the complexity of tea, the flavor variety from pistachios, and the antioxidants (and cool colors) from acai and other berries of your choice.
Check out this recipe from Half Baked Harvest to make your new favorite breakfast.
A Classic Acai Bowl
There are thousands of acai bowl variants. It's impossible to link just one, so we'll give you a brief rundown of how to make the base and a few ideas of additions to make your bowl pop.
Think of an acai bowl as a smoothie that you eat with a spoon. The bowls are cold and refreshing. They're similar to frozen yogurt or ice cream. While you shouldn't eat them every day (they're still full of sugar), they're a great way to get some fruits and vegetables into your diet.
For your base, you want to mix your acai powder with something that will make a thick foundation for the rest of your bowl. Frozen bananas are a great choice here. You only need a small amount of acai powder. Start with two tablespoons blended with ice and go up from there.
Use two frozen bananas and a handful of your favorite frozen berries. Blueberries add a lot of extra antioxidants and won't muddy up the color. If you don't mind a muddy color, consider throwing in a handful of spinach to get your vegetables in early.
Blend all of these things together and add your favorite plant milk until it's almost (but not quite) as thin as a smoothie. Add sweetener to taste. Your easy acai bowl recipe is done.
This is the base of your bowl. Once you've put the mixture into a bowl, add toppings. Some popular toppings include shredded coconut, nuts, fruit slices, and granola.
PB & J Acai Smoothie
So the acai bowl is nothing more than a thick smoothie, but you can also use acai in normal smoothies as well.
The previous acai base can work well as a standalone smoothie, but this PB & J acai smoothie is a sweet and protein-packed option that will keep you full until your next meal.
You blend together strawberries, bananas, acai puree or powder, and creamy peanut butter. What comes out is a thick and creamy shake that you can take on the go or enjoy at home.
Check out Living Healthy In Seattle for the full acai smoothie recipe!
Blueberry Acai Cheesecake
Did somebody say cheesecake? That's right; you can add superfood to your favorite dessert (and bonus: it's vegan).
You'll mix together blueberries, acai powder, cashews, coconut cream, and lemon to create a thick and tangy cheesecake base that rivals the real thing (with none of the extra fat or calories from dairy).
Put it all into a handmade crust and throw it in the freezer. In a few hours, you'll have a ready-to-serve cheesecake that's a great addition to any summer gathering. No baking required.
Acai Banana Bread
Sick of the frozen dishes? No problem. We'll end the way we started: with a treat that you can serve warm or room temperature.
Banana bread is the perfect sweet treat for any time of day. It's "healthy" from the bananas, and the acai addition will give it an antioxidant boost. It's no different than making any other banana bread, but you'll get a cool layer of indigo and a tart flavor that mixes well with the bread.
You can check out this recipe from Breakfast Criminals. Bonus: It's paleo and it can be vegan with a few alterations.
Because this recipe calls for frozen acai, remember our tip from the intro. Blend the powder with ice first and thaw it out until it mimics the texture of the puree.
Use Your Acai Powder in Fun Ways
There are so many ways to use your acai powder in tasty meals. Whether you want a cool and refreshing healthy acai bowl recipe, or you want something warm and filling, there's a recipe for everyone.
How will you use your acai powder?
For more recipes and articles on all things food, check out the rest of our site!