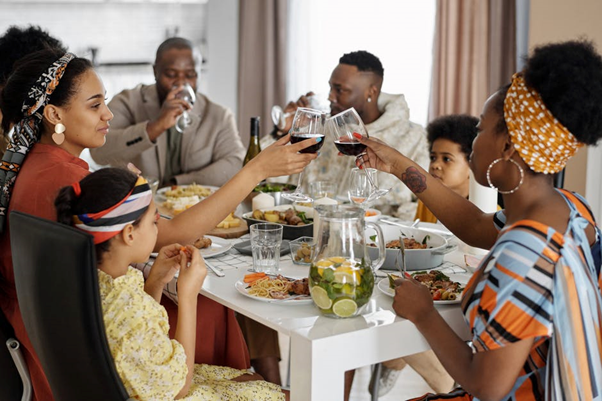 With the coronavirus pandemic in its second year and many restaurants either closed or heavily restricted, diners have been forced to get creative. While delivery services like Doordash, Uber Eats, and GrubHub have placed local restaurants at the fingertips of those with smartphones, those orders can get expensive in the long run. (Delivery fees and tips can easily add five to ten dollars to your bill!)
So, what's a foodie to do when their local haunts are not an option? Is their only recourse frozen TV dinners and sadness?
Nay, say we! Dining at home doesn't have to be a depressing prospect with these thirteen ways to improve your at-home dining experience!
Variety Is the Spice of Life
Yes, we know, it's cliche to say. However, if you want to make dining at home feel less like a chore, you need to be willing to switch things up. Part of the reason staying home for dinner all the time feels so depressing is that we tend to default to the same three to five meals each week.
Eating the same thing all the time is boring, not to mention sad. So, try spicing things up a bit! Track down a new recipe you've always wanted to try. If you really miss a certain chain's entrees, you can find plenty of copycat recipes online.
Keep Your Dining Space Clean
If you're anything like me, all the trash from takeout and cooking piles up in a hurry. You don't feel like eating in your dining area if it's covered in trash and old dishes. So, if you want eating at home to feel less sad, you need to clean up your space. Clean rooms feel less cluttered, which can help improve your mood. Speaking of…
Set the Mood With Lighting and Sound
Did you know that Spotify and Pandora have playlists dedicated to coffee shops? If you've missed the atmosphere of your local coffee shop in the mornings, throw one of these on Spotify while you enjoy a homemade latte and a croissant. Many of the tracks on these playlists have background chatter, increasing your immersion.
If you're trying to create a date night atmosphere instead, candles or twinkle LEDs are your best friend. These dim lights can help you craft a romantic mood for your next in-home date.
Upgrade Your Cutlery
Most of us have one set of cutlery that we've used since college. It's functional, practical, and boring as all heck to look at. If you want dining at home to feel more like eating out, consider investing in a fancy set of cutlery. Whether that's getting a different color or a fancier style than your norm, the switch can work wonders for eating at home.
(Plus, it's past time you stopped trying to cut steak with a cheap knife. Finding the right steak knife can be tricky, but it's worth it in the long run!)
Practice Professional Plating
Want to make dinnertime at home feel more like a restaurant? Check out a professional plating guide! Chefs go to culinary school for years to learn how to craft plates pleasing to the stomach and the eye. People tend to eat with their eyes first, as anyone turned off by a sloppy-looking stew can attest.
There are countless food plating tutorials online. Find the techniques that appeal to you, and go wild!
Speaking of plates…
Switch Out Your Plates
When was the last time you ate on actual plates, not paper or plastic? Beyond that, when was the last time you got new plates? If you're still using an ancient set bequeathed from your grandmother that isn't really your style, that might be why you don't want to eat on them.
Consider browsing around online for plates that better match your personal style and values. You don't need to stick to classic white or antique patterns. You can find bright, colorful, fun plates of all kinds that will work for whatever you want to cook!
Order Meal Kits
Are you running short on time and recipes? Ordering a meal kit may be just what you need to spice up your dinnertime! Companies like Hello Fresh and Blue Apron specialize in providing a variety of meal kits for every taste and diet. They compile the ingredients and deliver them for you, so you don't have to worry about tracking down the recipes and ingredients yourself.
All you need to do is follow the directions on the included recipe. Simple, easy, and oh so delicious.
Reimagine Your Leftovers
Leftovers are a dirty word to most of us home cooks. They're the bits and pieces of a good meal that no one wanted. What's left behind. Eating leftovers for days on end is synonymous with boredom and sadness.
It doesn't have to be this way! Look at the spices in your cabinet and see how you might be able to repurpose the massive amount of roast beef you cooked. With a few seasoning adjustments and some sauce, you could repurpose those roast chunks into shredded brisket for some barbeque sliders.
Got more garlic bread left over from your last Italian meal than you can use? Why not turn it into tasty croutons to use for your next salad? Your taco beef can turn into delicious sloppy joes with the right sauce. The possibilities are endless!
Plan Your Menu and Set the Theme
Most restaurants pick a theme and stick with it. So, if you want to bring that experience home, take some time to plan a menu around a specific motif. Want to enjoy breakfast for dinner? Find ways to bring the classic diner/greasy spoon experience into your home!
Taco Tuesday can turn into an outright fiesta with the right decorations, plates, and ingredients. A steak dinner feels better at home with heavy-duty knives, a nice red, and a loaded baked potato. Cafes offer delicious finger foods, soups, and salads alongside creamy coffee creations. Lay into your menu and theme to craft a restaurant experience in your home.
Kicking Up Your Classics
Home cooking can feel a touch depressing thanks to using the same ingredients for each iteration of a meal you enjoy. You don't necessarily have to go searching for brand new recipes every time you cook something to make dining at home feel better. With a few adjustments, you can take classic recipes and make them feel more enjoyable.
Have you been eating loads of ham and cheese sandwiches during the pandemic? Forget the cheap white bread, low-quality thin-sliced ham, and Kraft cheese. Instead, grab a hearty wheat bread, some deli-sliced black forest ham, and deli-sliced cheddar. (Or, if you're feeling really fancy, gouda or gruyere!)
Slather your bread with dijon mustard, compile your ingredients, and pop them in a sandwich press. Now you have a ham and cheese sandwich that can match almost any local cafe's offerings! Pair with either homemade or high-quality store-bought tomato soup, and you have a comfortable classic kicked up to the next step!
Dress for the Occasion
It's often said that the clothes make the man. Even if you go through all the trouble of adjusting your recipes, decor, and plating, if you show up to the table in pajamas, you'll remember that you're at home. While there's something to be said for comfort, you'll improve your mental state if you dress like you're eating out.
Trust us, the simple adjustment in attire can do wonders for tricking your brain that you're eating out somewhere, not plopped at home.
Avoid Distracted Eating
You can craft the perfect restaurant-quality meal, but if you proceed to take it to the couch while you binge Netflix, we guarantee it will break the illusion of eating out at home. Unless your preferred haunts are sports bars, chances are, you don't tend to watch TV while eating at a restaurant.
Plus, if you eat while distracted, you're more likely to overeat. Wait to start the Netflix binge until after. It will help!
Embrace Your Inner Bartender
Nothing says "I'm out to eat!" quick like having a mixed drink with your food. You don't need to rely on beer and wine to enjoy yourself. Many liquor stores have mini bottles that you can use to craft mixed drinks of your own at home. Trust us, you'll enjoy a margarita you mixed yourself far more than some pre-made slush!
Dining At Home Can Be Enjoyable With the Right Mindset
Dining at home can feel like the restaurant experience with the right atmosphere and mindset. All you need to do is find ways to spice up your classic recipes and adjust your ambiance to give you the right mood. Plan a menu and lean into your theme. With those adjustments, you'll find that you can enjoy eating at home almost as much as eating out!
If you found this article on how to enjoy in-home dining informative and want to read more like it, check out our blog each day for more content like this.