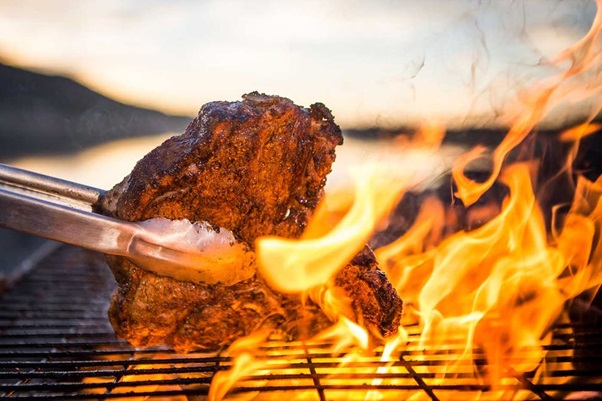 Introduction
Classic American steakhouse and smokehouse dishes are reimagined, reinterpreted, and twisted at Meat Maiden, BBQ Grill Bar. The best ever restaurant to treat your tongue with yummy, delicious meat. Since 2014, the team of meatmaiden are putting a twist on things and fine-tuning,which made this restaurant the best in town with the winning success formula. There is a modern approach to barbecue by sourcing the best local produce for the custom-built grill and wood-fired smoker. One can have a fantastic time at this restaurant and an ever-loving experience.
Lovely experience with excellent meat
The first thing to notice when walking down the stairs deeper to explore the fantastic environment, which enhances the feel. There is a pleasant atmosphere and wonderful ambience filled with satisfying the taste buds and hunger prangs. This restaurant is a spot for meat lovers, as the name suggests and a bbq paradise.
All are cooked to perfection to ensure optimum flavour and juiciness. There is incredible service served to each customer with the professional and friendly wait staff. Excellent meal on the table with mouth-watering flavours makes one fall for the recipes. There are also tickets for the comedy festival available. As a bonus for purchasing comedy festival tickets, there are drinks. The meat maiden restaurant caters to people with a vast appetite who know how to enjoy great food.
All on the menu look delicious and will be perfectly prepared. It is worth appreciating the flavour. Try it and enjoy the taste. For more details regarding the reservations, check this out,
Dinner reservations of 8 or more people must dine from $78 per person chef's option Maiden's Mood menu [add signature lobster mac for +$10pp ].
This menu is a chef's choice menu that is subject to change; if there areany dietary restrictions, the team of meatmaiden should be known beforehand. With prior notice, a Vegetarian Mood for $60 per person can be arranged.
Lunch reservations of 8 or more must dine from $45 per person Midday Mood set menu or $78pp Maiden's Mood set menu.
There is one more benefit if you possess gift cards as Meatmaiden accepts the third-party gift cards that are mentioned below.
Good Food, Gourmet Travelerand Best
One can even make a purchase of the meatmaiden gift cards. So it's time to gift meat to loved ones.
There should be 24 hours' notice of cancellation or a significant change in numbers before booking; otherwise, a $20pp charge apply.
Conclusion
Meatmaiden is definitely a go-to place restaurant, and one can experience excellent meat steak with unique cocktails. Fine and delicious meat being served with great flavour at the decent basement of the meatmaiden BBQ grill bar.